New Slots November 2023
As the crisp autumn leaves fall and the holiday season draws near, the world of online casinos is buzzing with excitement. The top new slots November 2023 offers are here with enticing blend of graphics, bonuses, and gameplay. Let us take you on a journey through six of the most thrilling slot games released this month, exploring their unique features and the treasures they have in store for players.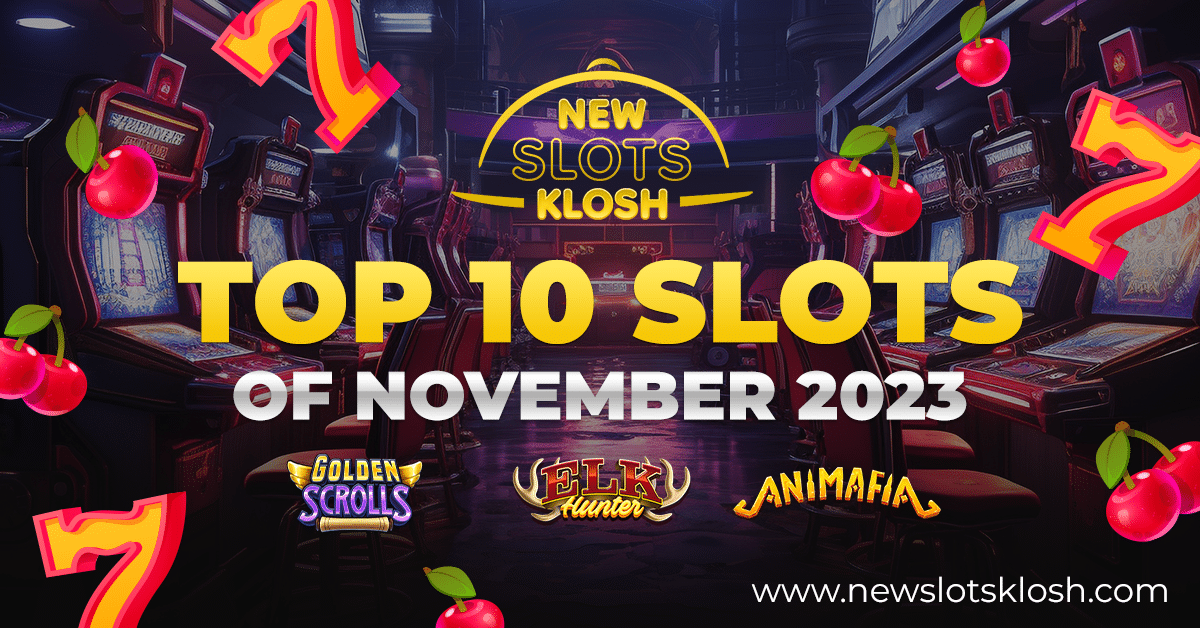 BEST NEW SLOTS NOVEMBER 2023
Timber Stacks
Timber Stacks, a slot game developed by Pragmatic Play, is set to revolutionize the world of online slot gaming with its unique features and thrilling gameplay. With an RTP of 96.5% and a high volatility level, players can expect a challenging yet rewarding gaming experience. The game is set to be released on November 6, 2023, and it introduces an innovative feature known as the "Increasing Grid Size."
In Timber Stacks, the Increasing Grid Size feature adds an exciting twist to the gameplay. After each spin or tumble, if no winning combinations are present, there's a chance that this feature will activate. An empty row of symbols is added to the bottom of the grid, and a random reel is selected to fall. Depending on the chosen reel, symbols may fall to the left or right, adding to the empty positions on the added bottom row. This feature has the potential to expand the grid up to a massive 10×5 size, creating an astounding 100,000 ways to win. However, the grid returns to its original 5×5 size once the tumbles end. Additionally, players have the option to buy free spins, and during the free spins round, the Increasing Grid Size feature remains in play, making the game even more engaging and rewarding.
With its release, Timber Stacks promises to deliver a unique and exciting slot gaming experience to players seeking high volatility and the chance to win big.
Fantastic Lobsters
4 Fantastic Lobsters, the latest creation by 4ThePlayer, is set to make a splash in the world of online slot gaming. This underwater-themed slot game offers a unique and thrilling gaming experience with an RTP of 95.0% and high volatility, promising players the chance for big wins. The game was released on November 2, 2023, and it brings a variety of exciting features that set it apart from the competition.
One of the standout features in "4 Fantastic Lobsters" is the "Money Ways." Lobster symbols, each displaying monetary values, can land on any reel. Winning these symbols is akin to winning cash from regular pay symbols. The real treasures are the Four Big Lobster prizes, including 50x, 200x, 1,000x, and a whopping 10,000x, which exclusively appear on the sixth reel. The game also introduces "Crab Cash Prizes," where the appearance of the Crab symbol can create or enhance Lobster wins, both in the base game and during the Respin Bonus. The "Giant Squid Bonus" adds another layer of excitement, swapping symbols to create or enhance Lobster wins in the base game and moving Lobsters from closed reels to open ones during the Respin Bonus. Players can trigger the "Respin Bonus" by landing at least three respin scatters, where Lobster symbols lock in place, and a Shark feature can multiply collected values by x2. There's also a "Pick-A-Win Bonus" offering players the chance to pick rewards from lobster traps, with the potential to win up to 10,000 times the bet. For those who prefer a shortcut to the action, the game includes three bonus buy options, allowing players to access these exciting features more quickly. 4 Fantastic Lobsters offers a deep and rewarding gaming experience that is sure to keep players hooked.
Sugar Supreme Powernudge
Pragmatic Play, the renowned developer of online slot games, is set to dazzle players with their latest creation, "Sugar Supreme Powernudge." Scheduled for release on November 2, 2023, this highly anticipated slot game promises an exciting and sweet gaming experience. With an RTP of 96.09%, it offers players the opportunity to indulge in a high-volatility gameplay adventure across its 6 reels and Cluster Pays payline system.
One of the standout features in Sugar Supreme Powernudge is the innovative Powernudge Feature. This feature can randomly trigger in the base game when a winning cluster appears, adding a thrilling twist to each spin. When activated, the winning symbols nudge down one position, revealing new symbols at the top of the reels, potentially leading to additional wins. But the excitement doesn't end there. Winning positions receive an initial x1 multiplier, and this multiplier increases with every subsequent winning symbol during the nudge sequence. If a winning cluster occupies positions with multipliers, their wins get multiplied by the cumulative value of all the multipliers involved, offering substantial rewards. The multipliers are reset when no more wins occur in the base game. Additionally, players can look forward to triggering Free Spins by landing 3, 4, 5, or 6 scatter symbols, with the chance to earn extra spins by hitting 3 or more scatters during the bonus round. For those looking to boost their chances of scoring big, a Buy Free Spins option is available, allowing players to purchase the free spins round for 100 times their bet, making the game even more enticing.
Sugar Supreme Powernudge is poised to be a sugar-coated sensation in the world of online slots, offering a delightful blend of innovation and high volatility gameplay that's sure to captivate slot enthusiasts when it hits the market in November 2023. With the enticing Powernudge Feature and the option to buy Free Spins, players will have ample opportunities to chase those sweet wins and savor the excitement. Pragmatic Play continues to prove its expertise in crafting engaging and rewarding slot experiences, and Sugar Supreme Powernudge is no exception.
Lights, Camera, Cash!
Lights, Camera, Cash! is a thrilling slot game developed by NetEnt, set to captivate players with its unique and innovative gameplay. With an RTP of 96%, this three-reel slot offers a high volatility experience, making it a perfect choice for those seeking high-risk, high-reward gaming. The game is set to be released on November 2, 2023, and promises an exciting adventure filled with numbers, Diamonds, and xReel scatters.
The core of Lights, Camera, Cash!'s gameplay revolves around the numbers that land on the reels, including 0, 00, 1, 2, 5, and 10. Each number corresponds to a multiplier of your bet, and they connect when they appear on the same payline. Diamonds serve as placeholders in this unique slot game. The Respin Feature is where the real excitement begins. When a winning spin occurs, a respin is triggered, and additional rows become active, potentially leading to bigger wins. The xReel scatter, with its multiplier values ranging from x2 to x50, adds an extra layer of excitement, making each spin or respin an opportunity for significant rewards. Lights, Camera, Cash! is set to shine a spotlight on the world of slot gaming, offering a cinematic experience like no other.
9 Enchanted Beans
9 Enchanted Beans is an enchanting slot game developed by Foxium that offers players a delightful gaming experience. With a Return to Player (RTP) rate of 96.12%, this medium volatility slot provides a balanced mix of risk and reward. Released on November 1, 2023, the game boasts 20 paylines and 5 reels, ensuring plenty of chances to win.
One of the game's standout features is the "Epic Strike." Landing 3 or more Enchanted Bean symbols anywhere on the reels awards players with a cash prize, making each spin full of anticipation. The "Ogre Skull Award" adds an exciting element as well, where collecting 12 Ogre Skulls on reel 5 can lead to a prize ranging from 1 to 2,000 times the bet, offering the potential for substantial rewards.
The slot also offers a thrilling free spins feature that can be triggered by hitting scatter symbols on reels 2, 3, and 4. The "Goose Wheel" and the ability to buy free spins through the "Buy Free Spins" feature add more layers of excitement to the gameplay. With the option to activate the "Boost" feature, players can increase their stake by 50% to enhance their chances of triggering free spins and landing Enchanted Beans and Ogre Skulls. 9 Enchanted Beans is a magical slot game that promises both fun and potential winnings for players seeking an enchanting adventure.
Red Hot Riches
Red Hot Riches, a thrilling slot game developed by Alchemy Gaming, is set to take the world of online gambling by storm. With its high volatility and a tantalizing RTP of 96.25%, this game promises an exciting gaming experience that can lead to substantial rewards. Scheduled for release on October 31, 2023, Red Hot Riches boasts an impressive 3,125 paylines spread across 5 reels, making it a highly engaging and dynamic slot machine.
One of the standout features of this slot game is its innovative gameplay elements, including Rolling Reels, Echo Rolls, and Upsizer. The Rolling Reels feature keeps players on the edge of their seats by removing winning symbols to create cascading wins. Echo Rolls can trigger after any win, guaranteeing an additional win with the introduction of high, low, or wild symbols. The Upsizer feature adds another layer of excitement, allowing players to collect Upsizer Coins that unlock free spins modifiers and the potential for massive multipliers. This game also offers the option to purchase higher Upsizer modifiers before free spins, further enhancing the player's control over their gaming experience. With a plethora of bonus features and the potential for substantial wins, Red Hot Riches is set to become a fan-favorite among slot enthusiasts.
In addition to these features, Red Hot Riches offers Free Spins + Free Upsizer Tokens, where landing scatters in the base game triggers free spins. During free spins, the win multiplier increases with each roll, and it doesn't reset until the round ends. The multiplier can reach impressive levels of x10, x20, or x50, depending on the Upsizer level. Collecting more scatters during free spins not only awards additional free spins but also multiplies your winnings, creating the potential for significant payouts. When the free spins round concludes, the Free Upsizer Wheel spins to reward players with up to 150 Upsizer coins, further boosting the excitement and potential rewards of this dynamic slot game. Red Hot Riches is poised to offer an exhilarating gaming experience, combining engaging features with the chance for big wins, making it a must-try for casino enthusiasts.
TOP CASINOS TO PLAY
Now that you know the top new slots November 2023 has to offer, We at New Slots Klosh believe that you also deserve to know where you can play them and use the bonuses to your advantage. Here are five online casinos where you can enjoy the latest and greatest slot games we've mentioned:
LeoVegas Casino

LeoVegas is often dubbed the "King of Mobile Casinos." It offers a vast selection of slot games from various top-tier providers. The casino is known for its user-friendly mobile app and seamless gaming experience on both mobile and desktop. LeoVegas also offers an impressive live casino section for those who enjoy the thrill of playing against real dealers.

888 Casino

888 Casino is one of the oldest and most respected names in online gambling. They offer a wide range of slot games, table games, and live casino options. Players can expect a secure and well-regulated gaming environment. 888 Casino also has a fantastic loyalty program for its regular players, providing various bonuses and rewards.

Betway Casino

Betway Casino is renowned for its diverse gaming options, including a vast collection of slots, table games, and a dedicated poker room. The casino is licensed and regulated by leading authorities, ensuring a safe and fair gaming experience. Betway offers attractive bonuses and promotions for new and existing players.

Casumo Casino

Casumo Casino takes a unique and adventurous approach to online gaming. It offers a gamified experience, where players can embark on a journey through different worlds and levels. The casino features a rich selection of slots and is known for its innovative loyalty program. Casumo's interface is visually appealing and user-friendly.

BitStarz Casino

BitStarz is a cryptocurrency-friendly online casino that has gained popularity for its extensive library of slot games and other casino offerings. The casino accepts a variety of cryptocurrencies, making it a go-to choice for those who prefer using digital currencies. BitStarz also features lightning-fast withdrawals and excellent customer support.
These casinos are known for their commitment to fair play, excellent customer service, and a wide range of new slots November 2023 exclusive from top software providers. Before playing, always ensure that you are complying with local gambling laws and gamble responsibly. Additionally, it's a good practice to review the terms and conditions, as well as bonus offers, at each casino to make an informed choice based on your preferences and needs.
November 2023 promises to be an exciting month for slot enthusiasts, with these ten new games offering a wide range of experiences and opportunities to win big. From mystical beings to the far reaches of the Viking kingdoms, there's a slot game for every taste. So, gear up and immerse yourself in these mesmerizing worlds, unlock their unique bonuses, and see if you can claim your share of the treasures they hold. Happy spinning and good luck on your November slot adventure!